Zhongying Fund Holing Business Talks with Sanya Municipal Government
Release time:2017-07-21
On July 20th, chairman Sun Hongliang of Zhongying Fund and Deputy Secretary of Sanya Municipal Committee and Mayor Wu Yanjun, Vice Mayor Li Jinsong and the main leaders from the Municipal Development and Reform Commission, Finance Bureau, Land Bureau, Health and Family Planning Commission, Planning Bureau, Agriculture Bureau and other relevant departments in Sanya municipal government hold a business meeting in Sanya city about the intending construction investment "Chinese natural energy protection practice area and pastoral complex project.
During the talks, chairman Sun introduces the "China's natural energy conservation practice zone" project to the leaders of Sanya municipal Party committee and municipal government. The project from Zhongying Fund is to respond positively to the national pastoral complex construction pilot in Hainan province and the "beautiful Hainan 100 project, to promote the agricultural modernization and the integration of urban and rural mutual promoting, and to realize the goal of "beautify the village, develop the industry, enrich the farmers, and purify the environment". Zhongying Fund will introduce advanced ground source heat energy technology and solar thin-film technology, to create high-end residential, commercial, international schools, international medical collection of a multi theme green garden complex.
The main leaders of Sanya municipal government give a high evaluation and recognition to the project feasibility and maneuverability. Mayor Wu expresses strong support for the project and the implementation of the reform. After the meeting, the relevant leaders of the municipal government arrange a inspection for the project site, to actively promoting the project in Sanya city.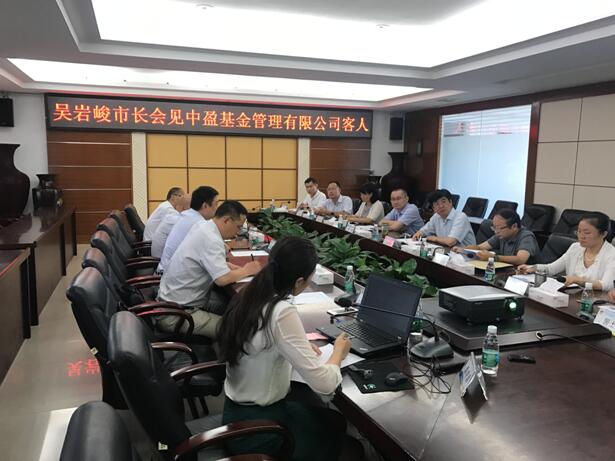 Business talks and the project site inspection